Often visited in a loop from Alice Springs, alongside Uluru and Kata Tjuta, King's Canyon is one of Australia's most spectacular natural landmarks. Unlike the cavernous swimming holes found in places such as Karinjini National Park in the Pilbara, King's Canyon is a site best explored by foot and air.

Located in the Watarrka National Park, it is easily accessibly with a 2WD and can be explored independently or with a group. We did the 'rim walk' which is the most popular and spectacular option. At a grade 4 walk, you will need to be fit, as your first challenge is a steep climb known locally as 'heart attack hill'. Don't worry, we lived to tell the tale and even had a 70 year old woman in our group who powered ahead of many of us younger folk.
Planning your Kings Canyon hike
Like most things in the Outback, a sensible visitor plans their hike. The most ideal time of year to visit Kings Canyon is between May – September when the weather is cooler and the sun less harsh. The park is open and walkable during the hotter months, however heat curfews are in place, and you'll need to start the rim walk before 9am if the weather is forecast to reach 36°C (97°F).
We visited in early January and began our walk around 7am in order to beat the heat. On hot days, you will find there is a bit of a crowd ascending heart attack hill, but the site is so large in size, that once you've reached the initial summit, the crowds disperse and there is plenty of space to explore without feeling a crowd.
Another safety feature of the walk is one way gates. The walk can only be done in one direction to allow rangers to keep a close eye on walkers and ensure that people don't become lost.
Whilst you may spot some backpackers hiking without shirts and flip flops, when it comes to the Outback, this really isn't the way to go. With a high UV index and no readily accessible water, you will rely on your clothing and provisions to have a safe and comfortable visit.
At 6km, the rim walk can be done at a steady and enjoyable pace in three to four hours. Even on a milder a day a wide breathable wide rimmed hat, hiking shorts, hiking shoes / sturdy runners and a t-shirt are a must. Make sure that you lather on the sunscreen before departure and pack a bottle just in case you need to reapply. It is a great idea to bring a small day pack as you'll need 3-4 litres of water on a hot day and with an early start a few snacks may also be welcome.
If you need a little extra support, hiking poles are a great addition as many of the surfaces have eroded over time, leaving the path quite uneven and rocky in places. In addition to the path, there are many side tracks and looks outs on which you can venture, that may involve a little scramble over rocks. A basic first aid kit is as essential as your camera for this hike.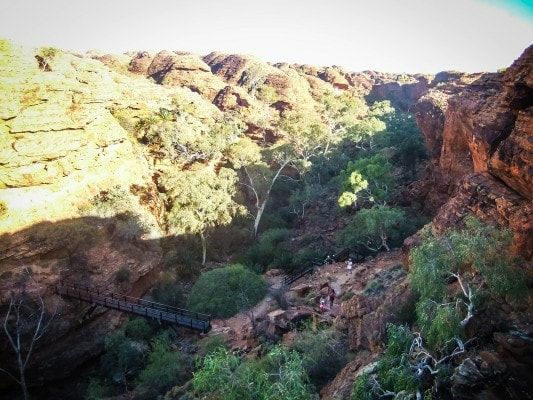 Take your time ascending heart attack hill, especially if it is hot. Once you reach the summit, the walk itself is predominantly flat, until you reach the gully, where you will descend and ascend a steep wooden staircase. The walk down isn't as steep as heart attack hill, and it takes a windy and scenic route back down to the carpark.
Once you've ascended Kings Canyon you'll be rewarded with rich red rocks contrasting with the lush green foliage and brilliant blue skies. If you look closely you may find fossils in the rocks, some reminiscent of waves, owing to the large inland lake that covered this area in prehistoric times.
Large rock formations are fun to climb upon and take photos, but the greatest spectacle is the canyons. Soaring 100metres above the canyon floor, the view down is absolutely spectacular, and once you descend the stairs to the canyon floor, you'll be met with a lush green forest. Despite the high temperatures reached in this area, the canyon floor is well shaded during the morning and afternoon and consequently is home to many plant species.
Whilst the hike itself is an incredible way to explore the canyon, you can't truly appreciate its size without seeing it from above. If you're in this part of the world, you'll also be able to fly over Uluru, however Kings Canyon is my pic.

Helicopter is the best way to soar above the canyon, which is rises majestically in the distance. Looking somewhat like a foreign landscape, it has a bumpy red surface, with the canyon cutting a deep gash down the centre. The lush forest is immediately seen in contrast to the sandy red that stretches for miles.

A 15 minute joy flight gives you the chance to explore the canyon from many perspectives and awe in wonder of its sheer size and even its position in what is otherwise a flat barren landscape.
HEADING TO AUSTRALIA? THESE POSTS ARE FOR YOU!